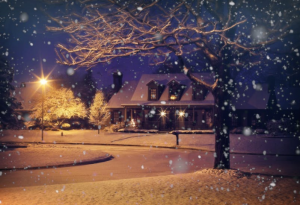 With the warmer months now behind us (or way ahead, if you're a glass-half-full person), we face a period when most people avoid exterior painting. However, does that have to be the case? Is exterior painting uncommon in winter because people don't want to be out in the cold, or is there another reason?
As it turns out, there are two main reasons why people don't typically paint their home exterior when it's cold. The discomfort is a reason, but it is the lesser reason. The more important consideration is that most paints are not formulated for low-temperature application. If you paint in weather below 55 degrees, you may end up with the following undesirable conditions:
Uneven paint color
Paint film cracking
Thick or lumpy paint
Water spotting the in paint finish
With these risks, most homeowners would conclude it's a better idea to wait until spring.
But what if you can't wait? What if some unforeseen circumstance leaves you with bare wood or unsightly areas right at the start of the cold season?
Is It Possible to Paint in Cold Weather?
Yes! Several major paint manufacturers produce exterior latex paints that can be applied when the weather is below 55 degrees. For example:
Valspar StormCoat goes on down to 35°
Sherwin Williams Superpaint can be applied down to 35°
Benamin Moore's Moorgard is good down to 40°
Whatever paint you choose to go with, make sure you read the instructions carefully regarding temperatures, drying times and recoat times. Remember that it is not just the air temperature that matters, but the surface you are painting. If the night was colder, you need to wait until the home exterior has reached the minimum temperature before application. This might be hours after the air has reached the minimum temperature. If you start on the sunny side of the house, it will be warm sooner than the rest.
Another important factor is the forecast. While you may find a period of the day when it is warm enough to apply the low-temperature paint, you need to make sure the weather will not get too cold (or wet) before the paint has cured properly. Again, see the manufacturer's instructions.
More Cold-weather Painting Tips
As is the case with all exterior painting, make sure the surfaces are clean and sound. There cannot be dirt, mildew, or chipping/peeling paint on the surface. If there is any bare wood, use a good primer before applying the top coat.
Professional Exterior House Painting In New Jersey
Cherry Hill Painting has been providing house painting services to the New Jersey and Philadelphia area since 1968. We have a reputation for professionalism and excellence, and we would love to serve your family! Our services include exterior painting, interior painting, wallpaper removal, cabinet refinishing, drywall installation and repair, and much more!
Based in Maple Shade, New Jersey, we also serve Marlton, Evesham, Moorestown Hunt, Cherry Hill, Haddonfield and the surrounding communities.