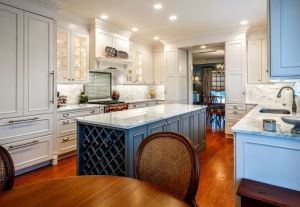 Choosing a paint color for your kitchen can be a confusing process. There are so many items to coordinate with, from furniture to cabinets to floor to appliances to countertops. Plus there is the emotional aspect to consider; what kind of atmosphere will the colors create? And of course, many of us are also thinking of potential resale value in the midst of these choices. With so much to keep in mind, where do you even start?
The first advice we have for you is that your paint color should be just about the last choice you make when redecorating your kitchen. All other major items should be chosen an installed so you can make sure you pick something that will match well with them. This includes cabinets, countertops and appliances.
Kitchen Color Tips
Neutrals Are Nice! The majority of homeowners these days are opting for neutral paint colors on their kitchen walls. That is partly because neutrals are popular in most parts of the home. But neutral colors are particularly good for a kitchen because they can easily match with the variety of materials in your kitchen. Neutrals fit well with stone-themed countertops, stainless appliances, white or wood cabinets, tile backsplashes, and many other common style choices.
Tan, gray, off-white and light shades of blue and green are the most common neutral colors.
Match any Adjoining Spaces. Some kitchens are essentially self-contained, meaning there is clear separation between the kitchen and the adjoining rooms. In this case, you can be more free to choose a non-neutral color, since it will only affect the kitchen. However, in an open-concept layout, the kitchen is clearly visible from the nearby rooms, sometimes even sharing a contiguous wall. When this is the true, your kitchen color choice needs to be a good fit with the other rooms. Again, this lends itself to choosing a neutral color.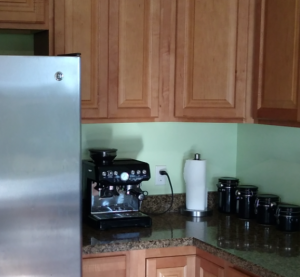 Consider the Genre. Your overall kitchen design has some kind of era or feel to it, and your color choice needs to keep that in mind. The "cozy country kitchen" style likes whites, yellows and bold blues, in particular. A "modern masterpiece" kitchen will usually go for bright whites with bold contrasts of black or gray, an all-neutral arrangement. A "wonderful wooden" kitchen needs something to complement the rich wood cabinets, most often an aloe-green or a warm tan.
If you are not sure what style your kitchen is, try browsing Pinterest or Houzz, or even just Google Images. Look for something that resembles the style of your kitchen and looks good. What colors did they use for their walls?
Choosing a Kitchen Color for Resale Value
When you redecorate a kitchen for the sake of selling your home, definitely go with a neutral color. This is the most common color choice for kitchens these days, and it is most likely to appeal to (or least likely to bother) a wide range of potential buyers.
Professional Kitchen Painting in Northern Virginia and the D.C. Area
If you need help choosing a paint color for your kitchen, consider talking to a professional house painter. We see hundreds of kitchens a year, so we know what is popular and how various colors are likely to work in you individual kitchen.
Of course, in addition to helping you choose a color, we would be delighted to serve you by painting your kitchen walls. We also paint cabinets, trim, ceilings… any surface you want colored! When you hire Cherry Hill for your kitchen painting project, you can be assured of clean lines, true colors, and a lasting finish.
Serving Alexandria, Marlton, Evesham, Tavistock, Pennsauken and the surrounding region, Cherry Hill Painting is your house paint company of choice for Northern Virginia and the Washington D.C. Metro region.