Are you considering painting your kitchen cabinets?
If you love the general layout, functionality, and condition of your cabinets, painting or refinishing may be all you need to create an entirely new look. The process offers many of the benefits of a remodel but in less time, and often with less expense than you'd accumulate during a pull-and-replace cabinet update.
So, the next question is which color you should choose. Take a glance through websites like Houzz.com and you'll see that the sky is the limit. From blue to green to buttery yellow, and even black, homeowners are exercising all their creative power to do something new and unique in their kitchen.
Today, let's narrow the field a little and focus on a few popular trends.
Popular Kitchen Cabinet Colors and Styles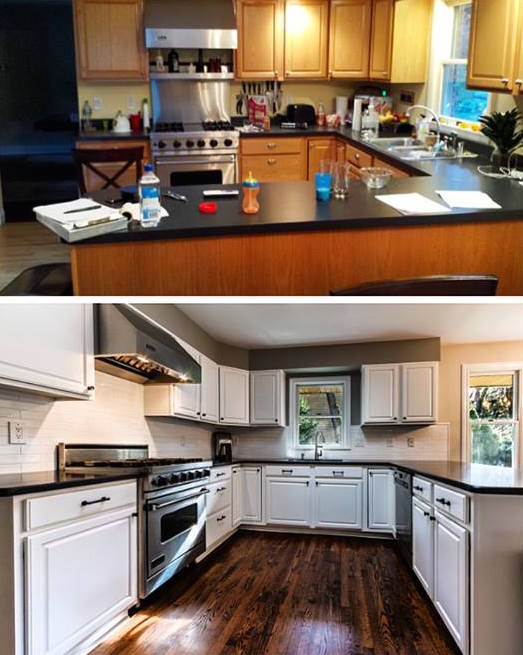 White and Grey – These are hands-down the two most popular cabinet colors today. Why? Well, they're neutral, subdued, and play well with almost any other color or texture you'd like to introduce (countertop, backsplash, etc…).
Introduce Something Natural – Many homeowners are complementing their cabinets with a touch of natural wood, maybe in the form of shelving, stools, or a section of butcher block countertop on their island. Not only is it pretty, but it also works well with really any other colors you have going on in your kitchen.
Make a Statement with Your Island – Let's say you paint your cabinets grey or white, following the trends of the day. Why not paint your island something brighter, or at least different, making it pop out as an accent piece?
Change Up Your Cabinet Color – Painting upper and lower cabinets a different color is very popular. Try a darker color down low to anchor your style, otherwise your cabinets will feel top-heavy. Color is powerful like that!
Should You Paint Cabinets Yourself, Or Hire a Professional Painter?
Unfortunately, cabinet painting is often portrayed as a fairly simple, DIY project by ambitious online resources. That's a little like when you watch a show for car enthusiasts that makes building a hot rod look like a weekend project.
There's a lot involved in the cabinet painting process, and it requires extensive product knowledge, tools, and experience to achieve a finish you can really be proud of. And, one that will last and perform as you need it to.
If you live in New Jersey, give us a call at Cherry Hill Painting! It would be our pleasure to serve you and answer your questions.