Bathrooms are unique spaces.
The environmental conditions and features not only make bathroom painting a tricky process in many cases, but there also is a high level of performance that's demanded of the product you choose.
Especially if you have kids, there are splashes to consider, steam, condensation, limited air exchange, and the daily strain of being a high-traffic room.
In short, bathrooms have it tough!
Will all of the above in mind, many homeowners encounter endless frustrations and setbacks during the bathroom painting process. And, in all honesty, many of these frustrations can be avoided with the proper awareness of how to choose the right product, and set that product up for success from the very beginning.
5 Bathroom Painting Tips You Need to Hear Before You Get Rolling
#1 Choose the Right Sheen
Remember, lower-gloss paint is best left for lower-traffic spaces. It may roll or brush into place smoothly and be friendly to work with, but it just isn't formulated to stand up to harsh treatment. A semi-gloss paint, on the other hand, is ready for almost anything you throw at it (within reason). Washable, bright, reflective, and tough, it's a good fit for a bathroom.
#2 Check to See If Your Paint Resists the Growth of Mold and Mildew
Especially in smaller bathrooms, or ones that have limited ventilation, a paint that resists the growth of mold and mildew is a nice asset. Check the can, or ask your paint supplier what they recommend for your specific space.
#3 Make Sure Your Bathroom Walls Are Totally Dry!
It can be easy to squeeze in the last few showers, making sure the family is washed before the bathroom is "off limits" for painting. If you do that, just be sure the walls are completely dry. As we elaborate on below, rushing the process will create headache after headache.
#4 Don't Rush!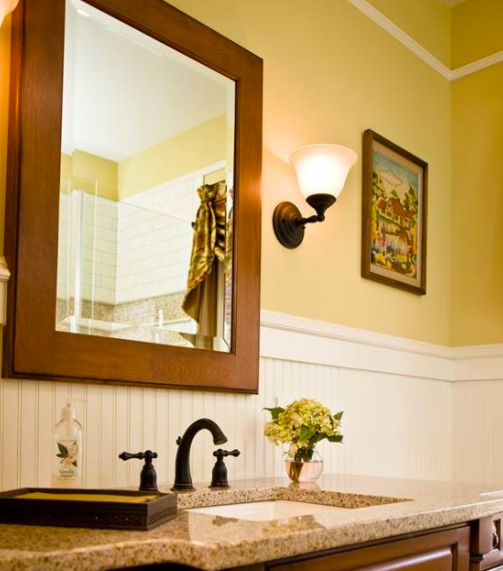 Fast painting is rarely ever a good idea, unless you're a professional painter with a steady hand and broad product knowledge.
Specifically, make sure each coat dries completely before you try to paint the next. Plan plenty of time for your project, counting on the need for a fully dried coat of primer and two top coats.
#5 Allow Plenty of Time for Your Bathroom Walls to Fully Cure
When you're done, don't consider the bathroom ready for action just because the walls aren't wet after a few hours. Because of the brutal moisture and humidity levels, your paint needs a day or two to fully dry and cure. Otherwise you might just find yourself facing aggravating streaks and blemishes.
Our Best Tip? Hire a Professional NJ Painter for Your Interior House Painting Needs!
An experienced painter will not only provide an exceptional, enduring finish, but also can help you understand all of your options and the very best way to enhance and protect your home.
If you live here in New Jersey, we hope you'll contact us at Cherry Hill Painting. It would be our pleasure to serve you.